Reservoirs
Doña Ana Reservoir
Purpose.
The function of Doña Ana Reservoir is that of flood control and it lacks control valves on the scour outlets ("hole dam"), its usual level being that of the same height as or below that of the scour outlets, and so the reservoir is functionally empty outside flood events.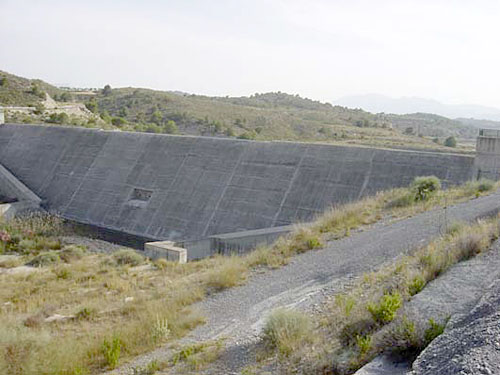 The Rambla de Doña Ana is a tributary on the left bank of the River Pliego, in turn, a tributary on the right bank of the River Mula, which in turn is a tributary on the right bank of the Segura river.

The plan below outlines the dams existing in the Mula river basin, where it can be seen that there are none upstream from Doña Ana Reservoir.

Los Rodeos Dam is located downstream on the River Mula, following its confluence with the River Pliego, which also is used for flood control purposes.