Reservoirs
Puentes Reservoir
Background.
The Guadalentín, an affluent of the Segura, is a river with quite an irregular flow pattern, which can go from very dry summer periods to really serious floods.
During the last 130 years, the following floods stand out among others:
October 1879 (Santa Teresa flood): reached a 1,510 m³/s peak flow in Lorca, causing 13 deaths and much damage.
September 1891 (San Jacinto flood): More serious than the previous one, but thanks to the Puentes dam, located on the top of the basin, the county was spared from a catastrophic event.
June 1900 (San Aniceto flood): Greater than Santa Teresa's, it flooded the San Cristóbal district in Lorca.
October 1948: The estimated flow on the Murcia-Granada road bridge was higher than 800 m³/s.
October 1973: According to a report from the Center for Hydrographic Studies, the maximum flow downstream from the Puentes reservoir reached 2,000 m³/s, while El Paretón Channel (located in the intermediate basin area) received about 1,500 m³/s.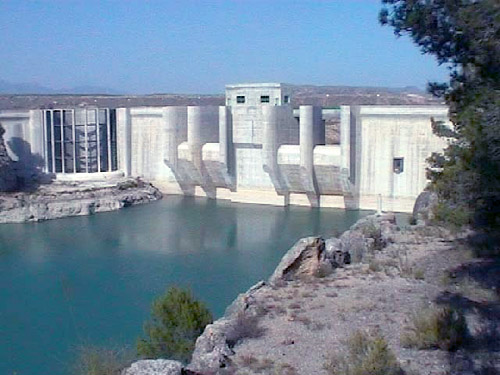 View of wall-face upstream from the fourth Puentes dam, the only one currently in operation
The works of the first Puentes dam began on December 16, 1647, in Guadalentín riverbed. This dam was designed to retain water for irrigation for the municipality of Lorca. On August 5, 1648, a flood destroyed the dam under construction.
The works of the second Puentes dam began on March 1, 1785, at the same site as the previous one. On April 30, 1802, another flood caused the Puentes dam to break, resulting in 608 deaths.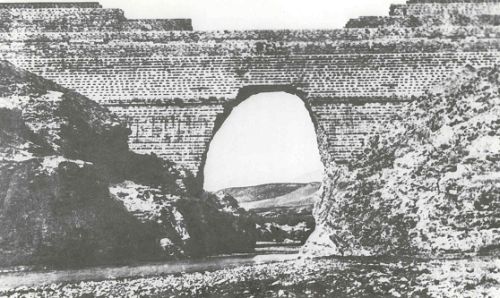 Downstream view of the second Puentes dam, after its break. This photo must not have been taken before 1850
On September 5, 1881, the third Puentes dam got underway. It was built on the same riverbed as the previous ones, but about 200 m downstream. On October 2, 1884, this dam started to be used. Today, it is still standing, but it is not in operation.
Through a Ministerial Ordinance dated July 28, 1993, Construction Project 4/93 of the Puentes Dam received final technical approval. New dam, known as the fourth Puentes dam.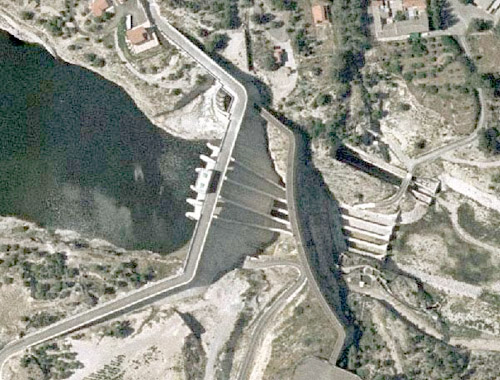 General view from the right margin of the third Puentes dam and, upstream, the fourth one
This dam was planned upstream from the third dam, but downstream from the first and the second dams. It is the only dam still in operation today. The works for this project began on December 16, 1993.