Reservoirs
Valdeinfierno RESERVOIR
History
The lack of rainfall and its unpredictable nature in the area which supplies the Valdeinfierno reservoir has always made it difficult to exploit even adequately a terrain and climate which ought to be ideal for excellent crop yields, let alone to expand the irrigated area of Lorca. This lack of water and its inaccessibility has always been a pressing problem. As early as the Middle Ages the users of the Lorca irrigation network reached the conclusion that if they used water only from the nearest rivers they would always find it difficult to irrigate their crops, so in 1550 they asked the public authorities for water to be supplied from the Guadal and the Castril (in the Guadalquivir basin), and plans were drawn up in 1576, during the reign of Felipe II. However, work was not started until Carlos III was on the throne, and it was interrupted not long afterwards in the face of opposition from the water users of the Guadalquivir basin.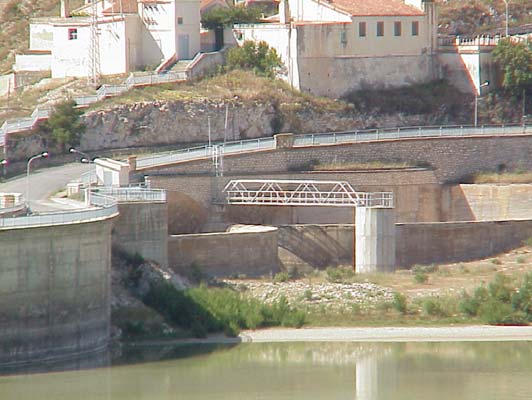 Torre de acceso a la cámara de válvulas de la toma
In these circumstances King Carlos III stopped the project and, in compensation, passed a Royal Decree on 11th February, 1785, approving the construction of the reservoirs of Puentes and Valdeinfierno, the former on the River Guadalentín, and the latter on the tributary known as the Luchena. Both reservoirs were constructed as per the Decree, work being started en March, 1785. The reservoir at Puentes was finished in 1791, but was destroyed in 1802 and later rebuilt downstream of the original project.


Ver plano Sección transversal tipo

(170 KB)
The Valdeinfierno dam was built more slowly, and was abandoned in 1806 before it was completely finished. Originally the Valdeinfierno reservoir was to have a capacity of 16.5 million cubic metres, but due to it being impossible to manipulate the base spillway floodgates, it progressively became completely filled with sediment up to the crest of the dam.
Basándose en la propuesta en función del riesgo potencial derivado de la posible rotura o funcionamiento incorrecto, la presa de Valdeinfierno ha sido clasificada en categoría A, según resolución de la Dirección General de Obras Hidráulicas y Calidad de las Aguas del Ministerio de Medio Ambiente de fecha 25 de julio de 2001.