Reservoirs
Boquerón Reservoir
Purpose.
The purpose of the use is the control of floods involving the Mullidar, Rincón del Moro and Boquerón watercourse trying to limit the effects of the floods, which historically occurred in the Tobarra, Hellín and Isso plains.
The Tobarra population is protected by the construction of a transfer channel leading most waters belonging of its basin to Boquerón basin, while the populations of Hellín and Isso are protected against their own and transvased floods by the dam of the Boquerón basin.
As a consequence of the lamination of floods produced by the dam, there is a reduction of the peak in the hydrographs entering through the Mundo river to the Camarillas reservoir, allowing this river to transfer its floods to the Segura river with a reduced flow, which represents the beginning purpose of the General Defence Flood Plan in the Segura basin.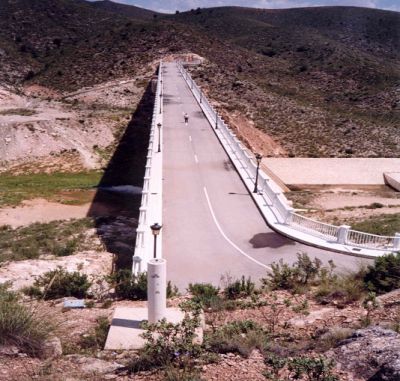 View of the top from the right margin