Reservoirs
El Mayés Reservoir
Purpose.
El Mayés reservoir was designed to collect the waters received by the Ojós Reservoir Pumping Station, through the Segura Right Canal River Bank, with the purpose of meeting the irrigation demands of Zone V (Yéchar, Casa Alta and Campos del Río), Sangonera, Librilla, Alhama, Totana, Lorca, Almería and for supplying Lorca.
For the construction of the reservoir it was not necessary to inundate any village; however it was necessary to inundate some paths and some high tension cables had to be diverted. The works consisted of the construction of a reservoir of loose materials, with an impervious core, a curved ground plan and its convexity orientated downstream.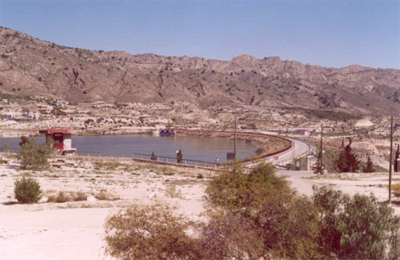 El Mayés Reservoir
The surface spillway was built on the left abutment. The headworks for the pumping station are located on the left embankment of the reservoir, a few metres from the spillway. An intake tower located in the reservoir, twelve metres (12 m) from the foot of the reservoir upstream, collects the waters destined for irrigation and the scour outlet. The water reaches the intake hut through a gallery that usually crosses the reservoir, inside which pipes have been placed, where it flows out to the canal. A walkway joins this tower with the right embankment of the reservoir. The scour outlet pipe carries on from this canal intake hut until the vicinity of the surface spillway stilling pool, into which it flows by means of its sluice.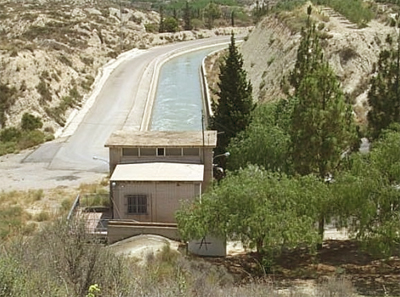 El Mayés Reservoir