Reservoirs
La Risca Reservoir
Access to the dam and reservoir
Access to the reservoir is via the C-415 main road towards Caravaca de la Cruz, a two-lane road which branches off the A-7 Motorway in the Municipality of Alcantarilla, near the capital of the Region.
From Caravaca de la Cruz (at about 75 km from Murcia) one continues north on the local secondary road C-415 for about 13 km towards Moratalla.
From this town one takes the local minor road MU-703 which goes round the southern flank of the Sierra de Los Álamos. After about 23 km one arrives at Campo de San Juan, from where one takes the access road.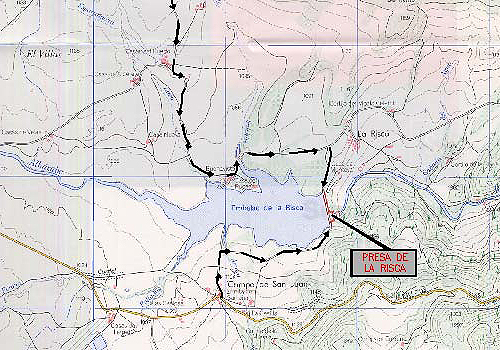 Access to La Risca Dam
The access road to the dam goes round the right shore of the reservoir and reaches the dam after about 1,500 metres. After passing the dam now on the left shore the road continues with a branch of about 350 m which leads to the local La Risca road.
The road is 5 m wide with two hard shoulders of 0.50 m each. The road surface is made up of, from the bottom upwards, a 0.25 m sub-base of a natural sand-gravel mix, a 0.20 m base of artificial sand-gravel mix and a top layer of a hot type S-20 bitumen mixture.
Other possible access routes to the dam if the MU-703 road is cut off from Moratalla are as below:
From Caravaca de la Cruz on the local road C-330 for about 13 km until the turning for Archivel. From this turning, in the direction of Archivel, on the local road MU-702 for about 34 km until reaching the junction with the MU-703. From this junction, taking the MU-703 towards Moratalla, the turning towards the dam is in about 5 km.
From Caravaca de la Cruz towards Moratalla. From Moratalla on the local secondary road C-3211 for about 21 km until the junction with the local minor road B-30. From this road, to Benízar and then towards El Sabinar, for about 10 km to the junction with the local road which leads to the dam. From the junction to the dam the access road is slightly less than 5 km long.