Tagus-Segura distribution canals
History
The first great idea to transfer water from other basins occurred in the 16th century when the Huescar canal was designed, in the Guadalquivir river basin, where the Rivers Castril and Guardal meet, in order to transport their waters to the Almanzora river basin, and so irrigate the fields of Lorca and supply the naval dockyard at Cartagena.
Years later the towns of Murcia, Cartagena and Lorca began the works, but they were destroyed by a great flood.
In the 18th century, the Real Compañía del Canal de Murcia was created, based on the old projects of Castril and Guardal, to have a 110 year concession, which was cancelled as the works did not get started within the scheduled term.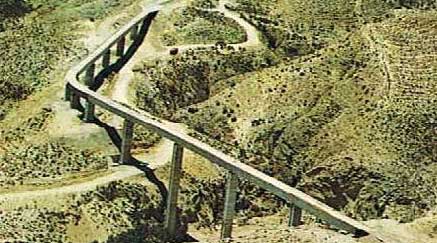 Los Yesos Aqueduct
The question of the transfer of water by means of using the Rivers Castril and Guardal has been talked about for years until recent times, specifically 1960, the year in which a commission from the Centre for Hydrographical Studies definitely decided that these works were not advisable. The direct antecedent of the Tagus-Segura Transfer arose with the 1933 National Plan of Hydraulic Works by Mr. Pardo Lorenzo; the minister of Public Works being Mr. Indalecio Prieto. It was considered as being a viable joint way of solving the water problem in the regions of the Southeast and East, using water from the Tagus, Ebro and, to a lesser extent, the Guadiana.
This plan meant for the Segura river basin a flow of 55 m³/s, equivalent to 1,750 million cubic metres per year, coming from the Júcar, Tagus and Guadiana; a previous regulation of 12 head reservoirs and the building of a great high canal for waters below the Tora Reservoir and a great water drop that would allow these flows to be taken to the lower canal that would reach the Alarcón Reservoir, to finally reach the Segura basin.
After the Civil War, the 1940 General Plan of Hydraulic Works includes this study and other later ones, treating it as an eminently national problem and stating that the solution to the irrigation problem in the east must be solved by using the surplus flows from other basins.
Finally, the Ministry of Public Works, through Mr. Federico Silva Muñoz, published the general preliminary plan in 1967, and in 1968, after having been made public, it was approved by the Council of Ministers.