SURFACE WATER MASSES
In accordance with Directive 2000/60 / EC of the European Parliament and of the Council of 23 October 2000 establishing a framework for Community action in the field of water policy, hereinafter referred to as the Water Framework Directive (DMA), the bodies of surface water in the Segura river basin are classified as:
These masses can be classified as natural, artificial or highly modified according to their degree of hydromorphological alteration. The identification and delimitation of surface water bodies is based on the criteria defined in the IPH, based on the "Guidance Document No. 2: Identification of Water Masses" of the Common Strategy for the Implementation of the DMA.
Segura river
Identification of bodies of water
Category
Num. Masses
SURFACE
CONTINENTAL
Natural river
69
HMWB - channeling river
6
River HMWB - infrastructures lamination without resource regulation
2
HMWB-reservoir river with resource regulation
13
AW
3
Natural lake
1
HMWB lake
2
TOTAL CONTINENTAL SURFACES
96
TRANSITION
Lake Transition HMWB
1
TOTAL SURFACE TRANSITION
1
COASTAL
Natural Coastal
14
Coastal HMWB
3
TOTAL COASTAL SURFACES
17
TOTAL SURFACES
114
Source: Hydrological Plan of the Segura Demarcation 2015-2021
For further information on these bodies of water in the Segura hydrographic basin, see Annex 12. Characterization of the water bodies of the Segura Hydrographic Basin

(18 MB), of the Segura Basin Hydrological Plan.
You can download the sheets of the different water bodies of the demarcation in the following link:

Map of categories of continental surface water bodies in the demarcation
Source: Hydrological Plan of the Segura Demarcation 2015-2021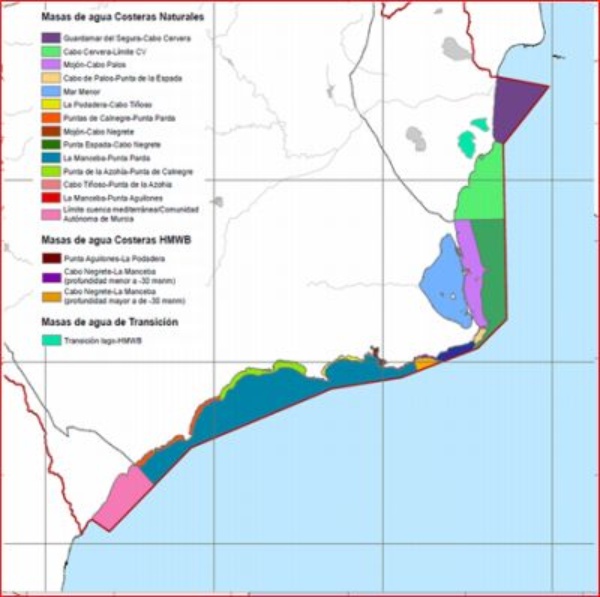 Water masses of the natural coastal category in DHS by type
Source: Hydrological Plan of the Segura Demarcation 2015-2021
With regard to the quality of the surface waters of the demarcation, the Segura Hydrographic Confederation has an updated monitoring and control network for these waters, as well as an Automatic Water Quality Information System (SAICA). For more information, you can consult the following links:
×