The 80th anniversary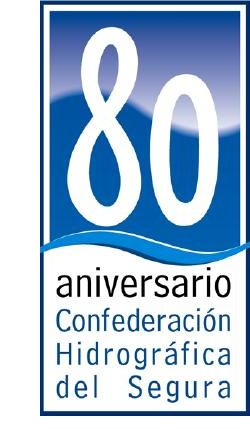 The Hydrographic Confederation of Segura (CHS) commemorates the 80th anniversary of its constitution. Royal Decree-Law training of CHS dates from August 23, 1926, published in the Gaceta de Madrid the next day while the December 5, 1927 held its inaugural meeting. Since its inception, it was proposed to regulate a river with a very variable flow, marked by long periods of summer and large avenues in short periods.
For this reason, the priority of HCS managers was to build and complete the reservoirs at Fuensanta, Cenajo, Camarillas, Talave, Argos, Quípar, De la Cierva and Valdeinfierno, in order to implement new irrigation operations and water supply for residents. Another major challenge was to address the problem of large floods; for this purpose, central government implemented the Flood Defence Plan, which was approved in 1987. This project, which required an investment of €450 million in new dams and channelling, has put an end to the large floods that used to affect the basin of the Segura.
In recent years, the Confederation´s efforts have been directed towards other important areas, such as preserving the basin´s natural environment and improving water management and quality. In addition to defining its goals, efforts have also been made to involve, through participation, all the social partners related with water; these will play a major role in drawing up the new Hydrological Plan for the Hydrographic Demarcation of the Segura, which is expected to be approved in late 2009.
The HCS prepared several events to commemorate its anniversary. The most prominent was the act held in the Multiple Services Building in Murcia to present medals to the civil servants who have worked in the agency for over thirty years. A video was shown and an exhibition organised. To round off the evening, the HCS hosted a wine reception for the public with entertainment provided by an orchestra that played classical music.
On this website you will find more information on the commemorative video shown, the photo album of the evening, and the Vive el Segura exhibition.