Registration Stakeholders
As one element in order to achieve a genuine public participation Enables process of the Water Planning Demarcation Hydrographic Segura, the Hydrographic Confederation of Segura (hereinafter CHS) has created a Registry of Interested Parts in which integrates all institutions, businesses and individuals that have applied for inclusion to date and that in one way or another are going to participate actively in the process. The Stakeholder receive first-hand information from the proceedings, tables, events and other activities related to the topic.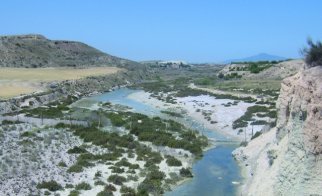 Salt marsh of the Ajauque and Salty Ravine. Murcia
Access to Register Stakeholders.
To join this Register Stakeholders should be sent to the CHS application form

(31 KB) duly completed.
In agreement to the Organic Law 15/1999, of December 13, about Protection of Information of Personal Character we inform him before about that the requested information will be included in a file registered in the Protection Agency of Information and whose person in charge is the CHS with the purpose of making effective the Public Participation Events. On having realized the request, a representative will have to be designated before the CHS and the authorization of publication of the name of his organization in the list of Interested Parts that will be available in it sedates of the CHS and in his Web at the Register Stakeholders section
The creation of this registry is regulated by: