I River Volunteer Sessions. April 16 and 17, 2010
The sessions
The Segura Water Commissioner, by means of these sessions, wishes to highlight the importance of public participation in the National River Restoration Strategy. Among the programs that comprise this strategy, the River Volunteer Program is one of the tools available to offer the public an opportunity to actively participate in the improvement of our natural areas.
This program was started in 2007 by four organizations in the Segura basin, a number that has been increasing year after year, reaching the ten associations currently working in various rivers and basin environments. A number of activities are developed in this program, of which we can highlight bank restoration, trash and rubble collection, animal and plant inventories, watercourse environmental quality control, path signalling, species tracking such as toothcarp, dragonfly, pond turtle, otter, etc., as well as publishing different information materials and offering talks in educational centers.
Más información sobre el "Programa de Voluntariado en ríos".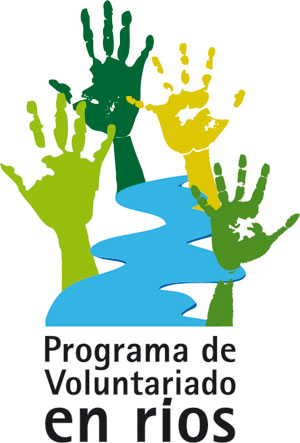 River Volunteer Program logo
Presentations
MARM Volunteer Presentation Program:
Water quality and river restoration:
MARM River Volunteer Projects in the Segura Basin:
River volunteer projects in other basins:
Volunteer programs in other administrations:
Session objectives
To provide a space to exchange experiences with the different volunteer associations, the Segura River Hydrographic Confederation and other organizations.
To promote the Segura Basin river volunteer program.
To make the River Restoration Manual for the Segura River basin, created by the SHC.
Session location and date
Murcia Chamber of Commerce, April 16, 2010
Segura river in the municipality of Cieza, April 17, 2010
Session participants
José Salvador Fuentes Zorita. Chairman of the Segura Hydrographic Confederation.
Jesús Yagüe and Francisco Javier Sánchez Martínez. Integrated Management General Sub-direction of the DPH. General Water Management. River Volunteer Program, General Water Management.
Manuel Aldeguer Sánchez. Segura Water Commissioner. Segura River Hydrographic Confederation.
Gonzalo Aragón Morales. Deputy Commissioner. Segura River Hydrographic Confederation
José Carlos González. Segura water quality commissioner.
Ana Agustín and Juan Jerónimo Fenal. Segura Water Commisioner.
Federico García López. International Water Quality Control Coordinator (ADECAGUA).
Andrés Muñoz. Environment Volunteer Program in Natural Areas in the Region of Murcia. Protected Areas Regional Office.
Ramsés Pérez Rodríguez. ADEGA (Association for the ecological defense of Galicia).
And different members of associations that have been acting since the 2007 call for volunteers: ADESGA, WWF, ACPES, La Galería, ASDE, ANSE, Ecologistas en Acción, COLUMBARES, AHSA, G.S. Kenya, UNIPESCA.