TERRITORIAL SCOPE
The Segura hydrographic basin is located in the southeast of the Iberian Peninsula and occupies an area of ​​approximately 20,234 km² (19,025 km², if only the continental part is taken into account, excluding coastal waters).
This area includes 132 municipalities, whose territories are distributed among four Spanish autonomous communities, Region of Murcia, Andalusia (provinces of Jaén, Granada and Almería), Castilla-La Mancha (province of Albacete) and Comunidad Valenciana (province of Alicante) Being estimated a population superior to the 2 million inhabitants.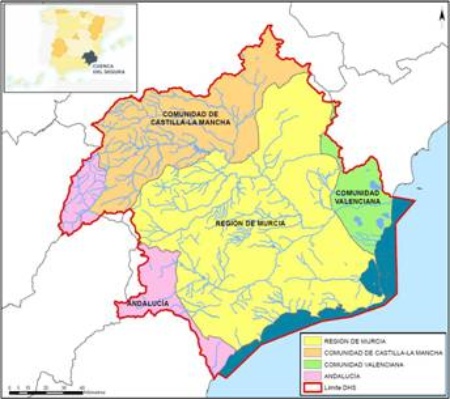 ADMINISTRATIVE FRAMEWORK SAFETY HYDROGRAPHIC DEMARCATION
Cuenca
Segura
Area of ​​demarcation (km²)
20.234 km² (19.025 km², if only the mainland is taken into account, excluding coastal waters)
Population year 2015 (hab)
1.964.636
Density (hab/km²)
103 hab/km²
Main cities
Murcia and Cartagena
Autonomous communities
Autonomous community
Sup. in DHS (km²)
Fraction in DHS (%)
Región de Murcia
11.180
58,8
Comunidad Valenciana
1.299
6,8
Castilla – La Mancha
4.759
25
Andalucía
1.787
9,4
Specifically, the area of ​​the Segura river basin is defined in Article 2.2 of Royal Decree 125/2007 of 2 February, which establishes the territorial scope of hydrographic demarcations:
"Includes the territory of watersheds that flow into the Mediterranean Sea between the mouth of the Almanzora River and the left bank of the Gola del Segura at its mouth, including its transition waters; Also the hydrographic sub-basin of the Rambla de Canales and the endorheic basins of Yecla and Corral Rubio. Coastal waters have as their southern boundary the line with a 122º orientation that passes through the Pozo de los Mones, north of the mouth of the Almanzora River, and as a north boundary the line with a 100º orientation that crosses the coastal boundary between the municipalities of Elche and Guardamar del Segura ".
Likewise, on the surface of the Segura hydrographic demarcation, 14 hydraulic zones have been differentiated, taking into account hydrographic, administrative, socio-economic and environmental criteria. The following table shows the different hydraulic zones that form the zoning of the territory of the hydrographic demarcation for surface waters.
Hydraulic zones that make up the zoning
I
Sierra del Segura
2.605
II
Río Mundo
2.419
III
Northwest of Murcia
1.688
IV
Mula
708
V
Guadalentín
3.340
VI
Ramblas del Noroeste
1.500
VII
Vega Alta
1.389
VIII
Vega Media
412
IX.a
South of Alicante. Vega Baja
486
IX.b
South of Alicante. Torrevieja
277
IX.c
South of Alicante. RLMI
328
X
South of Murcia
688
XI
Mar Menor
1.602
XII
Corral Rubio
269
XIII
Yecla
852
XIV
Almería
453
Source: Hydrological Plan of the Segura Demarcation 2015-2021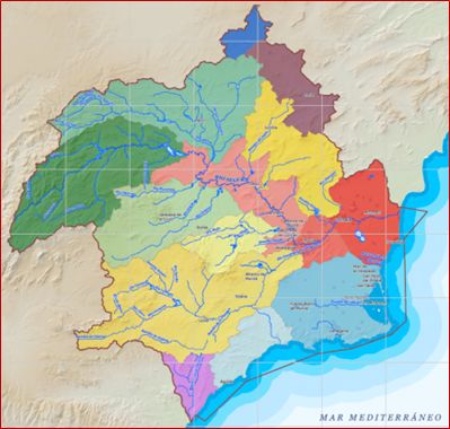 Zonas hidráulicas
Source: Hydrological Plan of the Segura Demarcation 2015-2021
×