SECTORAL ROUND TABLE MEETING FOR URBAN, INDUSTRIAL AND PURIFICATION SUPPLY
In accordance with the intention of the MMA to foster active participation for the planning process and as indicated in the "Public Participation Project" for the planning process various sectoral round table meetings have been planned.
The objective of these round table meetings is to establish an adequate framework for the development of active public participation among the social and economic entities and the Hydrological Planning Office of the Segura Hydrographic Confederation.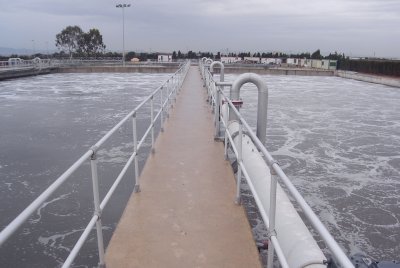 San Javier Purifier (San Javier. Murcia)
At this Round Table meeting are convened the most representative sectoral bodies for the demarcation of the Segura River Basin, including purification entities and supply companies as well as the Commonwealth for the Taibilla canals, the Spanish Federation of Municipalities and Provinces and Iberdrola.
The members initally propsed for this sectoral round table meeting are as follows:
The Commonwealth for the Taibilla canals.
The Spanish Federation of Municipalities and Provinces
AEAS
URBASER
AQUAGEST LEVANTE
Public Entity for Water for the Region of Murcia
Waters of Castilla-La Mancha
Regional Entity for the Sanitation and Purification of Residual Waters of the Region of Murcia (ESAMUR)
Public Entity for the Purification of Residual Waters for the Community of Valencia (EPSAR)
General Water Company of Valencia, SA (EGEVASA)
IBERDROLA POWER GENERATION
FIRST MEETING (13/12/2007)
The first session for this round table meeting was held on 13 December 2007 at 10am in the Conference Room of the The Segura Hydrographic Confederation. (Plaza de Fontes, nº 1, 30001, Murcia. Tlf: 968358890)
Download the meeting program and list of attendees.

(41 KB)
PHOTOS OF THE SECTORAL ROUND TABLE MEETING FOR URBAN, INDUSTRIAL AND PURIFICATION SUPPLY