Informative session of the Environmental Round Table Meeting 04/07/2008
In accordance with the intention of the MMA to facilitate active participation in the planning process and as indicated in the "Public Participation Project", for the planning process, various round table meetings have been scheduled, during the first half of July.
For these sessions the Segura Hydrographic Confederation has summoned diverse representatives of the interested parties to the planning process, in order to report on the content of future Outline of Important Issues of the River Basin, as well as to announce the next publication of the Public Information Document.
For the Environmental Round Table Meeting, diverse representatives of ecologist associations and environmental experts of the Demarcation have been summoned.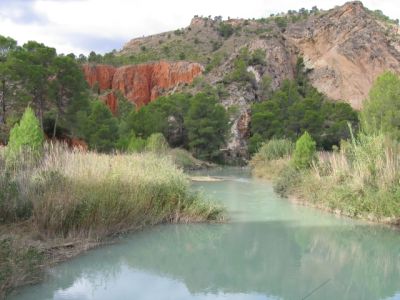 Segura river in Minas (Albacete)
The members initially proposed for the environmental round table meeting are as follows:
Local Action Group for the Mountain Range of Segura
ANSE
Association of Valle de Ricote for the study, conservation and defence
Ecologists in Action-Region of Murcia
Platform for the Defence of Valle de Ricote
Association of Friends of the Wetlands for southern Alicante
Sierra del Agua Association and the Platform for the defence of the sources of the Segura and Mundo Rivers.
Valle de Ricote Foundation
Caralluma
Greenpeace
Adena
University of Murcia, Department of Ecology and Hydrology
Minutes of the session 04/07/2008.

(43 KB)
PHOTOS OF THE ENVIRONMENTAL ROUND TABLE MEETING