SECTORAL ROUND TABLE MEETING FOR THE COASTAL WATERS OF MURCIA
In accordance with the intention of the MMA to facilitate active participation in the planning process and as indicated in the "Public Participation Project" for the planning process, various round table meetings have been scheduled.
The objective of these round table meetings is to establish an adequate framework for the development of active public participation among the social and economic entities and the Hydrological Planning Office of the Segura Hydrographic Confederation.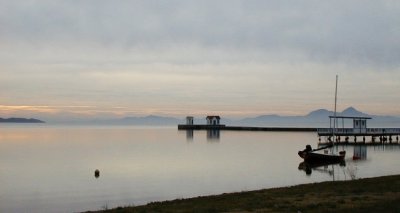 Laguna del Mar Menor (San Pedro del Pinatar. Murcia)
For this sectoral round table meeting the most representative entities of the sector related with the Demarcation of the Segura River (Fisherman, ship owners, shippers) as well as the different administrations with coastal responsibilities, both national and communitary have been summoned.Included as well, are universities and research and study centres.
The members initially proposed for this round table meeting are as follows:
National Association of Agriculture for Red Tuna (ANATUN)
Spanish Society of Agriulture
Coastlines of Murcia
Regional Federation of Fishing Guilds of Murcia
Spanish Association of Civilian Maritime (AEMC)
Spanish Shipping Association (ANAVE)
Cartagena Port Authority
Directorate General of Environmental Quality of the CARM
Directorate General for Public Health of the CARM
Directorate General of Ports and Coastlines of the CARM
Directorate General of Livestock and Fishing for the Ministry of Agriculture and Water of the CARM
Directorate General of Natural Environment of the CARM
Fishing Federation of Murcia
Spanish Federation of Fishing Organizations (FEOPE)
National Organization of Fishing Associations (ONAPE)
Spanish Federation of Fishing Boat Owners (FEABP)
Cartagena Maritime Authority
University of Murcia
University of Alicante
Centres of Study for Ports and Coastlines CEDEX
FIRST MEETING (12/12/2007)
The first meeting of this Sectoral Round Table Meeting for the Coastal Waters of Murcia was held on 12 December 2007, at 10am in the Conference Room of the Segura Hydrographic Confederation (Plaza de Fontes nº1 30001 Murcia)
Download the meeting program and list of attendees

(42 KB)
PHOTOS OF THE SECTORAL ROUND TABLE MEETING FOR THE COASTAL WATERS OF MURCIA